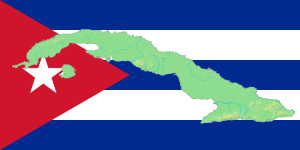 Here's what's coming up this weekend on State of Belief Radio –
Just like President Obama, we're heading to Cuba.
We'll talk to the Rev. Dr. Joan Brown Campbell about her decades of work in this island nation – including her personal relationship with Fidel Castro, and involvement in the Elián González case.
You'll meet the Rev. Eduardo Gonzalez, pastor of Emmanuel Baptist Church in Ciego de Avila, Cuba. Eduardo is a native of Cuba who studied theology at Southern Methodist University in Dallas. He is the general secretary of Cuban Coordination of Baptist Students and Workers, a christian Movement member of the Cuban Council of Churches.
And we'll hear from W. Craig Henry of Northminster Baptist Church in Monroe, Louisiana, which has partnered for decades with Eduardo's congregation. Since 1994, Craig has made over 25 trips to Cuba to foster this partnership.
Follow us on Facebook for updates and bulletins – and be sure to tune in! Here's how to listen.